AFT Connecticut praises education reform legislation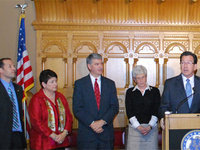 The House of Representatives passed Senate Bill 458 unanimously by a vote of 149-0, Feb. 8. Earlier that day the State Senate passed SB 458 by a vote of 28-7. The bill now moves on to the governor to be signed into law.
"It's very fitting that this legislation passed on Teacher Appreciation Day and we thank Governor Malloy, Senate President Pro Tempore Williams, Speaker of the House Donovan, Education Committee Co-Chairs Senator Stillman and Representative Fleischmann and the legislature for taking into account the input of the hardworking educators we represent," said AFT Connecticut President Sharon Palmer.
"This has been a long, and important process," said Palmer. "It took a great team to get this done and it will take continued teamwork to see it through. We look forward to continuing our work on PEAC in developing an evaluation system modeled after the successful system developed in New Haven," said Palmer. "This will give teachers the support and training they need to be successful in their profession."
"The support of the Black and Puerto Rican Caucus and the Education Committee for reading and literacy, as well as early childhood education and health and community programs, helped put the focus where it should be - improving education for children where they need it most."
"Teachers across Connecticut are committed to ensuring that every child receives the best education possible. This legislation ensures that we are headed in the right direction."

Highlights of the Connecticut education reform agreement include:
Expands early childhood education by creating 1,000 new early education slots in low-income communities. According to a recent Stanford University study, the achievement gap between wealthy and low-income students has increased by 40 percent since the 1960s. It is now double the gap between blacks and whites.
Investments in early childhood education are critical to eliminating this achievement gap. In addition, for every dollar a state spends on preschool for a child, the state will get back $60 to $300 from increased earnings and a decreased need for public services over that child's lifetime.
Provides support for reading instruction and creates a literacy pilot program in 10 communities. By the time children from high-income families start school, they have spent about 400 more hours than disadvantaged children on literacy activities.
Creates a new teacher evaluation system that will be piloted in 8 to 10 school districts. The evaluation system will ensure that professional development for teachers will be effective and targeted to instructional needs.
Creates a network of low-performing schools and brings teachers' voice to the process by which these schools will be improved. This new network will allow struggling schools to have new resources and will be constructed in collaboration with teachers.
Creates 20 school health clinics and 10 school community centers. The AFT has long been a proponent of the community school model—ensuring that children and families receive healthcare services, meals, counseling and other services they need.
You can access a complete copy of the bill here.
You can access the bill analysis here.
---
AFT CT (American Federation of Teachers Connecticut) is committed to improving the quality of education for every child in the state. Education reform issues like teacher tenure, teacher certification, teacher evaluations, early childhood education, charter schools, school funding and more need input from all educators. PreK-12 teachers, paraprofessionals and school related personnel are working every day to improve learning and help students to grow. From urban schools in Connecticut, such as Hartford, New Britain, New Haven and Meriden, to suburban schools, such as, Bloomfield, Simsbury and Waterford, to regional school districts, our members are working to provide quality education.